The i.play system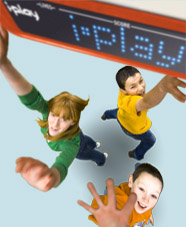 The i.play system has been designed to encourage children away from the sofa and into the playground. It aims to break new ground in playground equipment through the invention of a facility that will promote high energy exercise for the young.
By creating a device that is both highly interactive, challenging and fun, it invites children and young people to start exercising – and stay exercising.
Children can enter their scores in the 'my i.play' section of this website, and view the scores of others on the i.play system league table.
Teachers can also use the website as a classroom tool to encourage children to identify their exercise levels and spark discussion and learning on the impact of exercise and diet on health and fitness.
The i.play system is fully solar powered, contributing to the creation of environmentally sustainable playgrounds and facilities.